---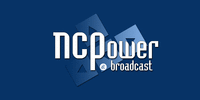 Address:
Agnes-Pockels-Bogen 1, 80992, Munich, Germany
Phones:
+49 1728537052
E-mail:
URL:
Stand:
A41, Bavaria
Category:
Participants
NCPower has been developing top notch products and solutions for the media industry since the last millennium. Media-, Radio- & TV companies in Germany and all over the world use it's products for Ingest, Planning, Production and Automation. NCPower will show it's newest capabilities of Cross Platform Media production.
Participants:
Sergei, Maevsky - CEO BSA Media Software&Engineering
Sandbaek, Hans-Henry - CEO SANDEC Media AG
Kirmaier, Florian - CTO SANDEC Media AG
Sefcsik, Antal - CEO NCPower@BroadCast & Media Ltd.
Győrfi, Attila - CTO NCPower@BroadCast & Media Ltd.
Freydkin, Basil - Sales Agent Eastern Europe NCPower@BroadCast & Media Ltd.