---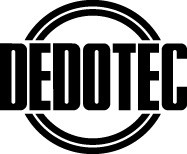 Address:
119526 Moscow Russia 95 Vernadsky Ave., build. 4
Phones:
+7-(495)-651-96-42
Faxes:
+7-(495)-434-75-98
E-mail:
URL:
Stand:
B40
Category:
Participants
DEDOTEK LLC has been the exclusive distributor in Russia of the German company DEDO WEIGERT FILM (Munich) for more than ten years.
The company was founded by Dedo Weigert, a cameraman with extensive experience in film and television, the inventor and manufacturer of the DEDOLIGHT lighting range.
The design of his first device, which has already become legendary, is based on the patented optical system Aspherics.
The American Association of Cinematographers twice awarded Dedo the famous Oscar for completely new principles in the design of lighting equipment. The Guild of Cinematographers of Russia marked the contribution of Dedo Weigert with the White Square Prize.
At our booth is presented:
- The new LED lighting technology DEDOLIGHT for film, television, video and photography;
- portable lighting devices for on-site film crews with autonomous power;
- various modifications of soft light devices;
- high quality lenses for movies;
- A variety of accessories that make it easier to shoot, optical nozzles that create "effects", filters and much more.
Participants:
Leonid Pridorogin, General Manager
Dmitry Andreev, Project Manager
Kirill Alekseev,Engineer