---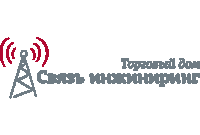 Address:
Second Ochakovsky lane 4, build.2 office 8. 119361
Phones:
+7 (495) 617 72 27
Faxes:
+7 (495) 617 72 19
E-mail:
URL:
Stand:
A22
Category:
Participants
Svyaz engineering Trading House is:
• One of the leading system integrators, equipment supplier, developer and designer of digital TV and radio broadcasting networks;
• General contractor of the Federal State Unitary Enterprise RTRN in construction of the second multiplex under the federal target program Development of Broadcasting in the Russian Federation for 2009 - 2018;
• Supplier of telecommunication equipment which supports all modern standards of broadcasting via television transmitters from leading manufacturers, as well as additional equipment for radio and television transmitting centers;
• The only official partner of GatesAir (ex.Harris Broadcast Communications Division) in Russia for television and radio transmitting equipment;
• Exclusive representative of Thomson Broadcast in Russia.
• Distributor of equipment by Com-Tech, Bird Technologies, Spinner, Rohde & Schwarz, Triada TV.